Recipe: Honey Vanilla Pound Cake Recipe by Ina Garten of Barefoot Contessa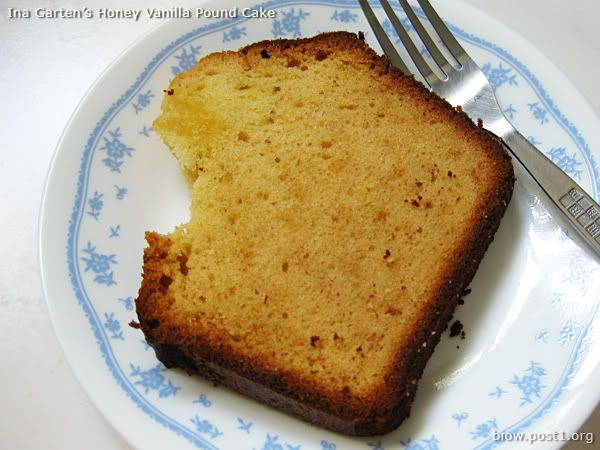 Recipe: Honey Vanilla Pound Cake Recipe by Ina Garten
Ingredients:
226g = 1/2 pound(2 sticks) unsalted butter, at cool room temperature
281g = 1 1/4 cups sugar
5 large eggs = 4 extra large eggs, at room temperature
2 tablespoons honey
2 teaspoons pure vanilla extract
1 teaspoon grated lemon zest
250g = 2 cups sifted cake flour
1 teaspoon kosher salt
1/2 teaspoon baking powder

Method:

Preheat oven to 350 degrees F / 176°C.
Grease the bottom of an 8½ x 4½ x 2½ inch loaf pan.
Line the bottom with parchment paper, then grease and flour the pan.
Using an electric mixer fitted with the paddle attachment, cream the butter and sugar on medium speed for 3-4 minutes, until light.
Meanwhile, put the eggs, honey, vanilla and lemon zest in a glass measuring cup but do not combine.
With the mixer on medium low speed, add the egg mixture, one egg at a time, scraping down the bowl and allowing each egg to become incorporated before adding the next egg.
Sift together the flour, salt and baking powder.
With the mixer on low speed, add it slowly to the batter until just combined.
Finish mixing the batter with a rubber spatula and pour it into the prepared pan. Smooth the top.
Bake for 50-60 minutes until a toothpick inserted in the center comes out clean.
Cool for 15 minutes, turn out onto a baking rack, and cool completely.
Biow's comment: I think the batter should fill 2 loaf pan.. so if baking only 1 loaf pan, I would halved the recipe.
Biow's reference:
Sri's Feed My World

(2009-03-08 22:54:55 SGT)
[
chomp-chomp
]
Permalink

---
Most popular blog postings in Biow's world:
Featured articles in Biow's world:
---