i was in such a panick state last last fri (9th sep to be exact) cos i was offered a job and i hv like only 5packs x4oz of frozen EBM (expressed breastmilk).. the shock came cos i dun hv to attend interview (actually i did attend an interview way back in mar and i rejected then, heh..) AND i have to start work on mon (12th sep).. gosh.. not enuf milk stash!!.. *panick-panick*.. i start to pump 5-6times on top of all the nite direct feedings.. big time stress!
but glad that my hard work is paying off.. so, now i hv a nice buffer (31packs x4oz = 124oz - those on the right are 5packs in 1 ziploc bag, where 1 pack contains 4oz of EBM).. i shall now stay calm as long as the electric dun die on me!! or my freezer die on me.. pls dun let such disaster happen to me! i have enuf worries on my plate!!.. time to store some in office and some in my fren's (lynn) hse.. she's so nice to offer me some space on her freezer.. *muack*.. hv to wait for fri.. cos i always freeze friday's milk as sat/sun, i will feed direct..
anyway, my job is on a 1-yr contract basis.. so, will see how later.. meantime, i just want to sleep.. heh.. but so reluctant to cos got so many things to do!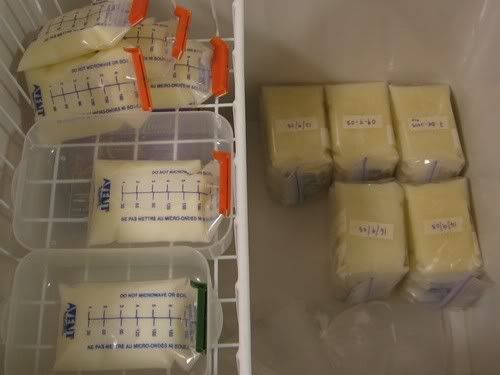 (2005-09-21 00:49:06 SGT)
[
nen-nen (bfg)
]
Permalink
Comments [2]

---
Most popular blog postings in Biow's world:
Featured articles in Biow's world:
---