Birth Announcement: Welcome Joshua
Announcing new baby to my lao phng you gang.. so handsome..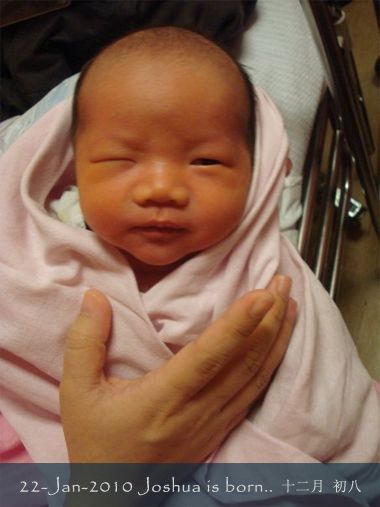 nice shot.. i didn't take ken/wenn shot like this..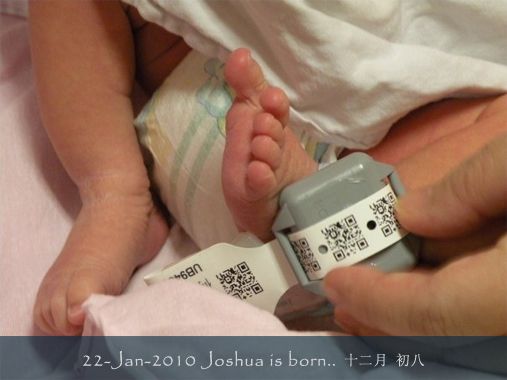 aww..
See also:
1. Cookie n Eggy

(2010-01-22 00:00:00 SGT)
[
kindred spirit
]
Permalink

Our friendship is kinda special.. we met in Desa Kembara in USM in Jun-1996.. then, i was feeling at the top of the world for finally managed to enter local uni to pursue a degree.. we had a week of orientation.. and naturally the chinese will flock together.. so, i met her while we were queuing some Q during orientation.. i can't remember what was it.. anyway, i guess we must have chatted.. and there and then, a friendship formed.. special cos she was way "older".. she was doing her degree after her stint at maktab perguruan and after teaching for some years.. so, she was like "adult" learner.. well, when i was in USM i already felt old cos i was 2 years senior than my coursemates.. (i re-took my STPM, equivalent of A-levels, story for another day).. so, i can't imagine how she felt..
anyway, being the social butterfly that i am.. i went to her room often.. to yak and gossip.. i remembered she lived upstairs of me somewhere.. even after we moved out of hostel and stayed outside campus in rented rooms, i still went to visit her to yak and gossip.. don't ask me we talk about what.. probably she patiently listen to all my complaints!!.. i'm such a complain queen.. so, i guess must be one of my endless complaints.. heh..
10 years on (last we saw each other was 1999).. she arranged to meet with me when she visited singapore.. i don't think we took any photos together before.. so, i can't do a before and after.. but here we are, 10 years on..
Updated1:
My friend found the photo and scanned for me.. here was us, perhaps 10 or more years ago.. can't remember when was this photo taken.. was it our 1st year or 2nd or 3rd?
Updated2:
taken on 14-Mar-1997
(2009-09-21 22:48:18 SGT)
[
kindred spirit
]
Permalink

Birth Announcement: Welcome Mia & Mikayla
Would love to announce new babies - Mia and Mikayla.. congrats, Ame and Chris!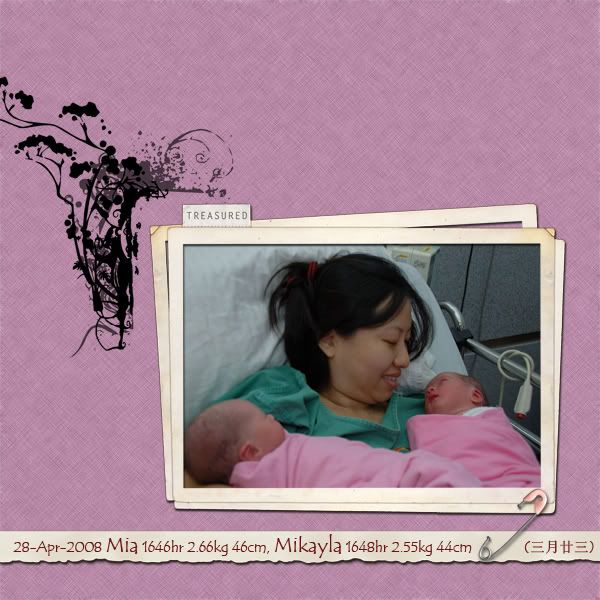 how often do you know of someone who give birth to twins? amazing isn't it? such a wonder..
(2008-04-28 23:06:46 SGT)
[
kindred spirit
]
Permalink
Comments [2]

i have updated my dear "old" friend ame's babies ticker.. do check it out.. so nice photo right? really regret i did not go for a photoshoot when preggie.. haiz.. big time regret.. so preggie moms-to-be, please go and have nice photo taken.. it's really once in a lifetime chance.. but again i looked ugly when preggie.. so, haiz.. but still.. photoshoot is supposed to glamorised mar.. so, go for it.. mai tu liao, ok?
(2008-03-25 23:36:51 SGT)
[
kindred spirit
]
Permalink
Comments [1]

Anaelle is 2.. Happy Birthday!

(2007-06-18 23:14:46 SGT)
[
kindred spirit
]
Permalink
Comments [1]

I have a group of unique friends.. we have keep in touch through emails all the way from year 2000.. unique relationships.. some of us have known each other since 1987.. and some even since 1982.. 4 "school 1" girls and 2 "school 2" girls.. school 1 and school 2 cos in our primary school, somehow the same standard is divided in 2 groups.. hmmm, don't really know why though.. all i know was school 1 girls "do not like" school 2 girls.. childish, eh.. of cos.. we were children then.. heh..
then when we came to secondary school.. somehow all the school 1 and school 2 students were mixed and placed together..
afther that, we (me and S) went our separate ways in Form 6 / A-levels level.. i guess during that period we were no longer in touch with one another.. i dunno.. i'm sure i didn't keep in touch with any except with A.. this was the period of my life in which i find myself trying to forget.. so, my memory at times were hazy over this period.. and yet, it's the most signifant period of my life.. but i will not elaborate further, mabbe some other day.. i think we went to a Genting trip together during this period too.. for the life of me, i don't know how come I went to this trip with them..
and soon, we found ourselves joining the work force.. and one fine day, having grab hold of some of my old classmates email, which i can't remember where i got from (i hv lost track of the very first email i sent).. i just have a record of someone's reply dated some Mar-2000 that serves as a record that we started emailing in that year.. and, so, we have kept up with this form of communication - mass email
and, yesterday, due to someone's reply.. i begin to analyse myself.. cos, it's not the first time someone remind me of my too inquisite reply or too much .......... (fill in the blanks), i come to realise actually how private these friends are.. yes, we do share some details of our lives but there's still something not to say.. something like how tactful we can be.. and sometimes my intentions are/were misunderstood..
then i realise how my family function.. we never kept secrets from one another.. we tend to speak what is/are on our mind.. no trying to please someone.. no trying to be considerate.. :P.. no beating round the bush.. happy or unhappy, we can tell straight from the look of the face..
i have no conclusion.. and i know this time i have really crossed too much of the line.. what i really hope is throughout the years we hv grown, we do not have to thread gingerly around each other so as not to hurt another person.. sometimes someone feel we should not talk/say something.. but sometimes silence is hypocricy, in my opinion.. but to remain as friends, we embrace and accept each other's goodness, shortcoming, everything, we tolerate each other..
and, so, this posting is to remind me how much i treasure this special group of my friends..it last becos we made the effort.. it's special because we care.. here is to many more years of unique friendship..
(2007-05-16 11:00:31 SGT)
[
kindred spirit
]
Permalink
Comments [5]

---
Most popular blog postings in Biow's world:
Featured articles in Biow's world:
---