Beast Quest: Trillion The Three-Headed Lion Bookmark
Click below link for template
2012-03_beast_quest_trillion_bookmark.pdf (95482 bytes, application/pdf)


See also:

(2012-03-18 21:40:26 SGT)
[
craft, scrapbook, PS
]
Permalink

art_n_craft
mr_steady
Valentine's Day Craft Idea for Boys
Thanks to my friend, Sue, I'm crawling this Skip to My Lou website.. beautiful crafts.. I'm so going to make this Rolo Rocket and this 3D Paper Lizard soon.. :)


See also:

(2012-03-02 15:49:01 SGT)
[
craft, scrapbook, PS
]
Permalink
Comments [2]

My new look.. Wenn said, "Mommy, you looked so messy.. please wash your hair".. :D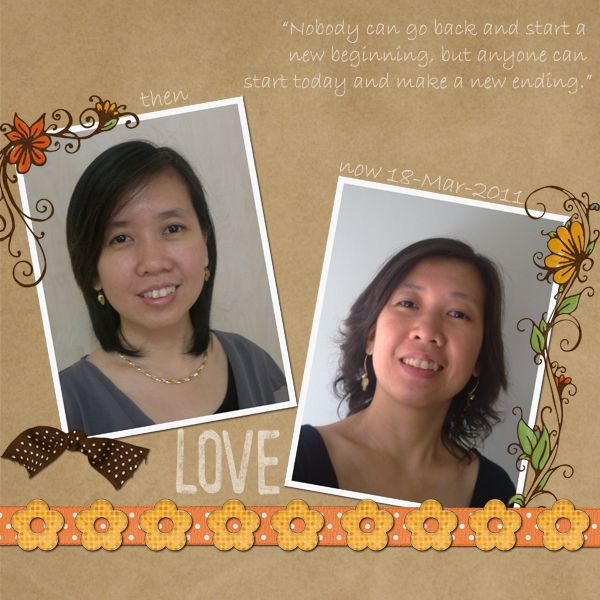 See also:

(2011-03-18 17:13:45 SGT)
[
craft, scrapbook, PS
]
Permalink
Comments [2]

ms_chatterbox
LO: Happy Me - Happy Mother's Day 2009
Ken was so excited to present me the below card and box he made last friday.. as soon as he got off the school bus, he shoved them to me.. :).. such a sweet boy.. as for wenn, he said, kiss me is enough.. practical, indeed.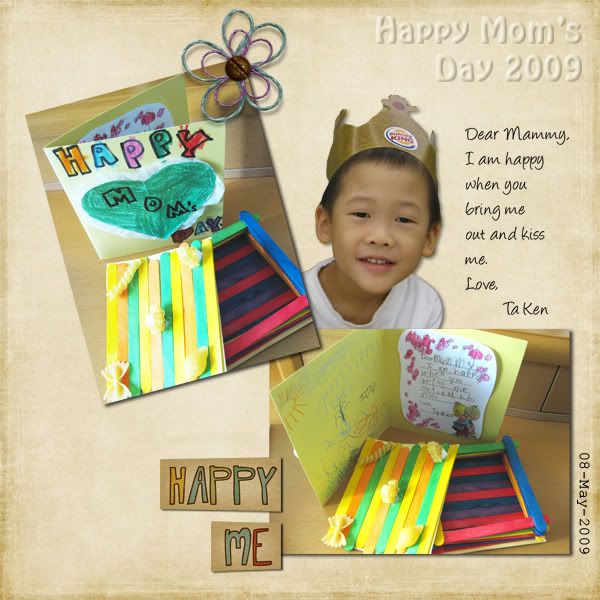 See also:
1. Happy Mother's Day 2008
2. LO: Love, Mommy (muffin from Ken)

(2009-05-11 14:56:12 SGT)
[
craft, scrapbook, PS
]
Permalink
Comments [1]

Tutorial: Black and White with some parts colored using Photoshop CS3
Step 1. Make color pictures into black and white
1. Open your image file in Photoshop CS3.
2. Go to Layer > New Adjustment Layer > Channel Mixer.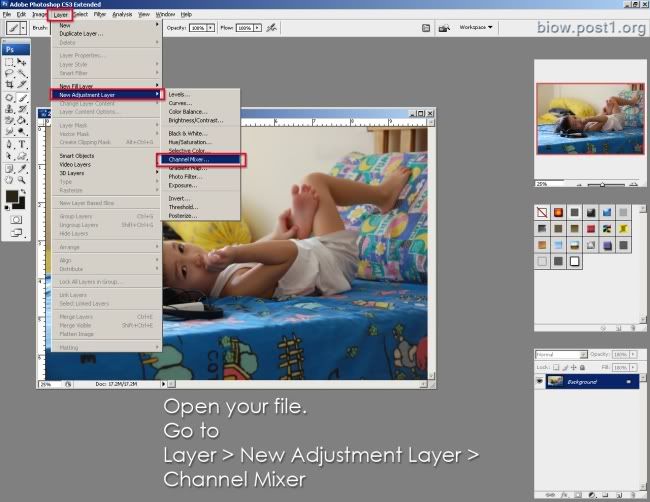 3. Click OK.




4. Checked / Ticked the Monochrome check box.
5. Adjust the Red, Green, Blue percentage. These 3 values need to add up to be 100%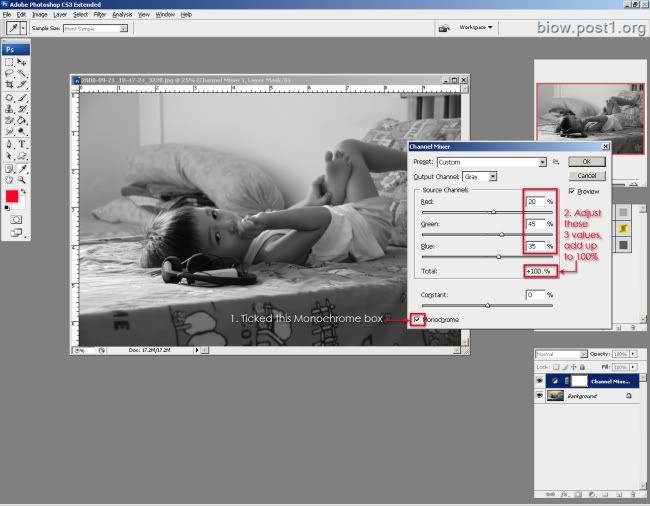 Note: If you stop here, this is how you can convert regular color digital photos into black and white photos.
Step 2. Highlight the objects you want colored
1. Select Brush Tool.
2. Set Foreground Color to black and Background color to white.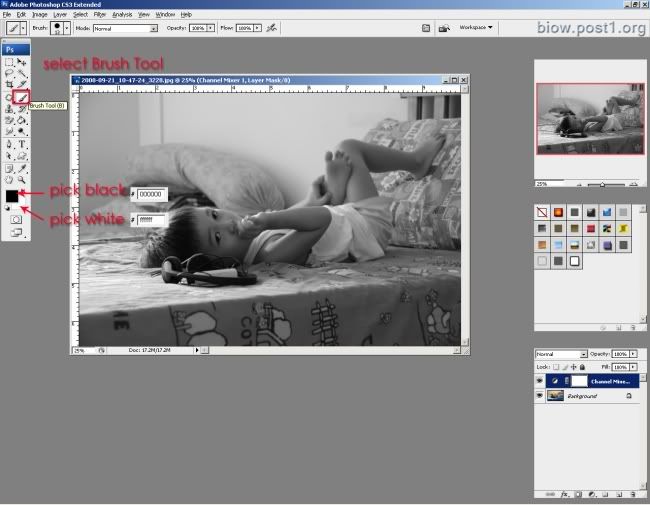 3. Select a brush size. Here I selected 50 px.



4. Paint over the area which you want colored with the brush. Adjust the size of the brush as needed.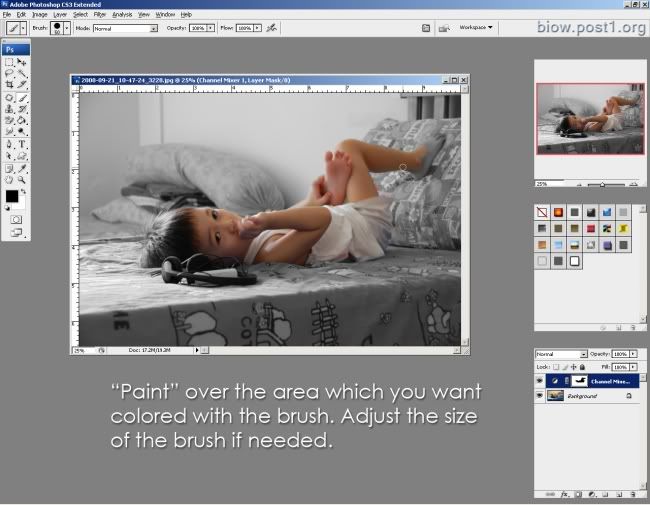 5. Opps, I painted a wrong area. How? Just switch the foreground to be white and background to be black and paint over the "wrong" area. Or you can un-do, of course.

Taa-daa.. so, this is how you can make your digital images or pictures into Black and White with some parts colored using Photoshop CS3.. here are the before and after:
Biow Tutorial: Black and White with some parts colored using Photoshop CS3


See also:
1. Tutorial: Adding copyright watermark to your images using Photoshop
2. Biow Tutorial: Animate series of images with Photoshop CS3
3. Tutorial: Reflection effect in PS
4. Reference: Photoshop Magnifying Glass Tutorial
5. Reference: Add Speech Balloons and Text Bubbles to Your Photos in Photoshop or Elements Tutorial

(2008-10-01 03:15:06 SGT)
[
craft, scrapbook, PS
]
Permalink

(2008-07-03 00:43:06 SGT)
[
craft, scrapbook, PS
]
Permalink

---
Most popular blog postings in Biow's world:
Featured articles in Biow's world:
---