I bought some cookie cutter which u can slide in some letters to make your own message from an online spree.. and so the kids bugged me to make cookies with them.. no prize for guessing who ended up doing them all..
fresh from oven.. awful colors as i took them with my hp camera..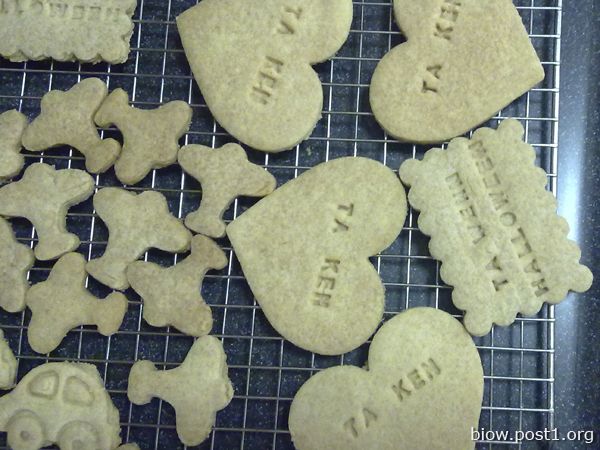 packed..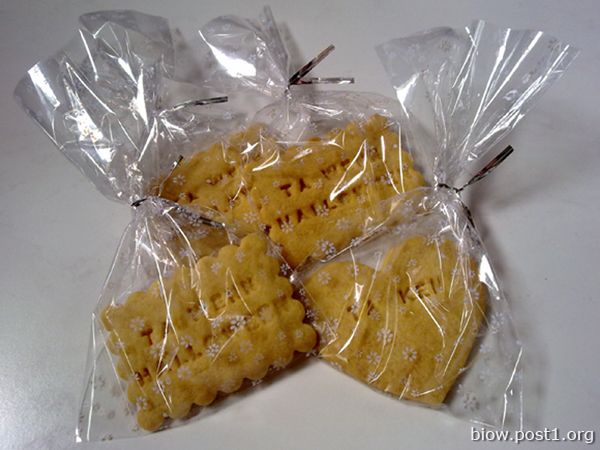 (2010-11-03 09:53:07 SGT)
[
chomp-chomp
]
Permalink
Comments [1]

mr_earnest
mr_steady
Recipe: Spiced Banana Walnut Muffin Recipe from McCormick
This is a very simple recipe.. mixer is not needed.. just mix everything up with a spoon and fork.. taadaa..
Recipe: Spiced Banana Walnut Muffin
Ingredients:
1 tsp McCormick Cinnamon Ground
½ tsp McCormick Nutmeg Ground
125g soft brown sugar
200g self-raising flour, sifted
40g chopped walnut
100g melted butter
2 tbsp milk
1 egg
3 ripe bananas, mashed
14 medium-sized muffin cups (Biow's note: I used 8 large cups)
Method:

Preheat oven to 200°C.
Combine flour, walnuts, McCormick Cinnamon Ground, McCormick Nutmeg Ground and sugar in a mixing bowl. Make a well in the center.
Using a fork, whisk egg, add in butter, egg, milk and banana together. Add to flour mixture and fold together until just combined.
Spoon into muffin cups and bake for 25min.
Biow's reference:
McCormick 2007 edition recipe book

(2009-05-07 12:35:44 SGT)
[
chomp-chomp
]
Permalink

Recipe: Honey Vanilla Pound Cake Recipe by Ina Garten of Barefoot Contessa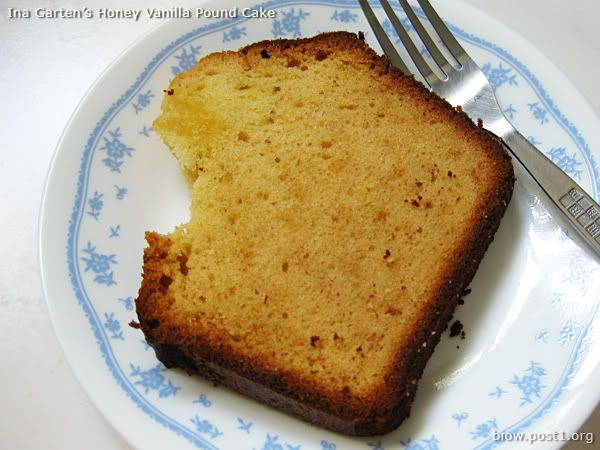 Recipe: Honey Vanilla Pound Cake Recipe by Ina Garten
Ingredients:
226g = 1/2 pound(2 sticks) unsalted butter, at cool room temperature
281g = 1 1/4 cups sugar
5 large eggs = 4 extra large eggs, at room temperature
2 tablespoons honey
2 teaspoons pure vanilla extract
1 teaspoon grated lemon zest
250g = 2 cups sifted cake flour
1 teaspoon kosher salt
1/2 teaspoon baking powder

Method:

Preheat oven to 350 degrees F / 176°C.
Grease the bottom of an 8½ x 4½ x 2½ inch loaf pan.
Line the bottom with parchment paper, then grease and flour the pan.
Using an electric mixer fitted with the paddle attachment, cream the butter and sugar on medium speed for 3-4 minutes, until light.
Meanwhile, put the eggs, honey, vanilla and lemon zest in a glass measuring cup but do not combine.
With the mixer on medium low speed, add the egg mixture, one egg at a time, scraping down the bowl and allowing each egg to become incorporated before adding the next egg.
Sift together the flour, salt and baking powder.
With the mixer on low speed, add it slowly to the batter until just combined.
Finish mixing the batter with a rubber spatula and pour it into the prepared pan. Smooth the top.
Bake for 50-60 minutes until a toothpick inserted in the center comes out clean.
Cool for 15 minutes, turn out onto a baking rack, and cool completely.
Biow's comment: I think the batter should fill 2 loaf pan.. so if baking only 1 loaf pan, I would halved the recipe.
Biow's reference:
Sri's Feed My World

(2009-03-08 22:54:55 SGT)
[
chomp-chomp
]
Permalink

Chocolate chip muffin for Valentine's Day..
For ken and wenn to bring to their teachers in school..
Recipe: Nigella's Chocolate Chip Muffins from Nigella Lawson (Feast)
Ingredients:
250g plain flour
2 teaspoons baking powder
1/2 teaspoon bicarbonate soda
2 tablespoons best quality cocoa
175g caster sugar
150g chocolate chips (plus more for sprinkling later)
250ml milk
90ml vegetable oil
1 large egg
1 teaspoon real vanilla extract

Method:

Preheat the oven to 200C and fill a 12-bun muffin tray with paper cases.
Weigh out the dry ingredients into a large bowl. Pour all the liquid ingredients into a measuring jug.
Mix both together - it will be a runny batter - then spoon into waiting muffin cases.
Sprinkle more chocolate chips on top then cook for 20 minutes or until the muffins are risen and springy.
(2009-02-12 22:07:22 SGT)
[
chomp-chomp
]
Permalink
Comments [1]

Today, I think my "yi" can make it liao.. finally after years of doing, this year is the best q-q, chewiest type i have ever made.. *yay*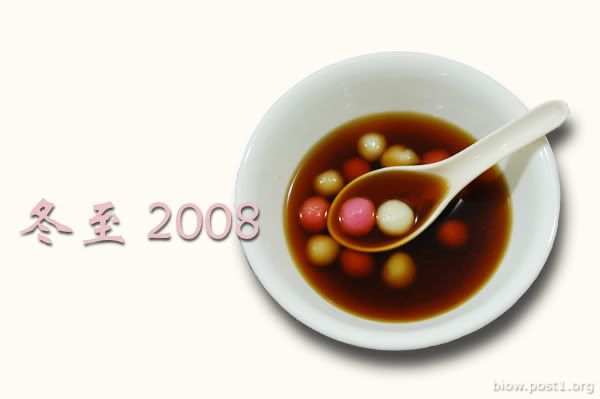 Also, i baked this for my helper to bring to her friends on her off day..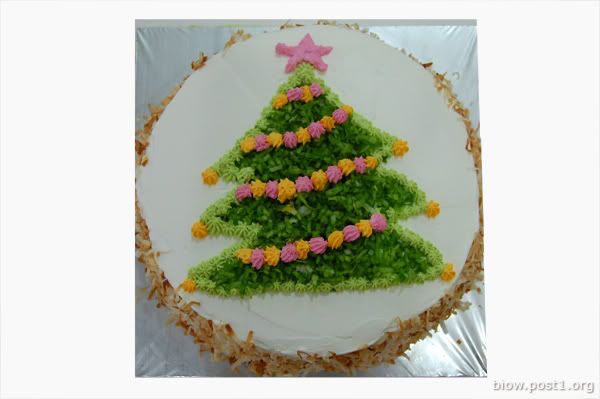 See also:
1. Happy Winter Solstice 2007
2. Happy Winter Solstice 2004

(2008-12-21 22:05:39 SGT)
[
chomp-chomp
]
Permalink
Comments [1]

Someone shared this in a forum.. so, i proceed to try it out. It stated to put in a toaster for 6 min. I do not have a toaster. I have an oven. Not sure what temp to set. My bread chao-ta liao, the egg still wobbly. I proceed to nuke it. Hence no more nice bull eye egg. It's actually 2 slices of bread. The top slice, cut out a square. Or someone used some shapes of cookie cutter as well. Put a slice of cheese In between the 2 slices of bread. Though the actual recipe calls for cutting the cheese to 4 stripes to line the 4 edges. Pour in the egg. Toast for 6 min. Sigh, and I'm supposed to watch my weight.. :S
(2008-11-08 00:46:33 SGT)
[
chomp-chomp
]
Permalink
Comments [2]

---
Most popular blog postings in Biow's world:
Featured articles in Biow's world:
---